Saucony AW22 "Lace 'em or Chase 'em"
Introducing the Endorphin Pro 3 campaign. Celebrating the launch of the third generation of the Endorphin collection, a shoe that's all about a faster you.
Date:
2022
Client:
Saucony
Creative Agency:
Design Army
Role:
Designer
Work:
Campaign / Conceptualization / Writing / Storyboarding / Art Direction / Branding / Print / Production / Photo Asset Library & Retouch Management / Research
---
HERO PRODUCT: ENDORPHIN PRO 3
---
---
OOH METRO & RETAIL
---
Saucony took over more than 20 metro stations throughout Paris for a total of 115 metro-based ads that promoted both the Endorphin Pro 3 launch and the House of Speed event.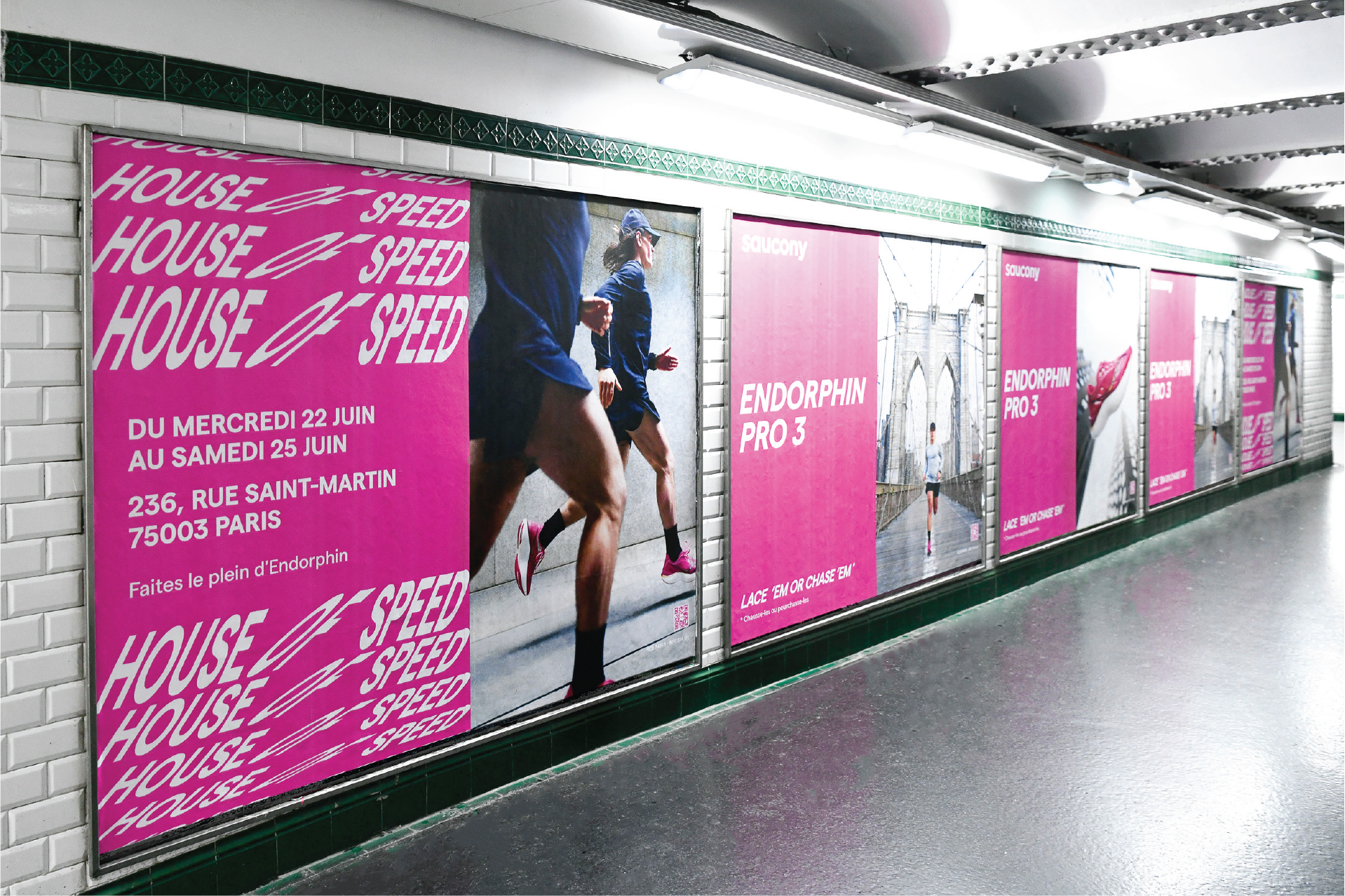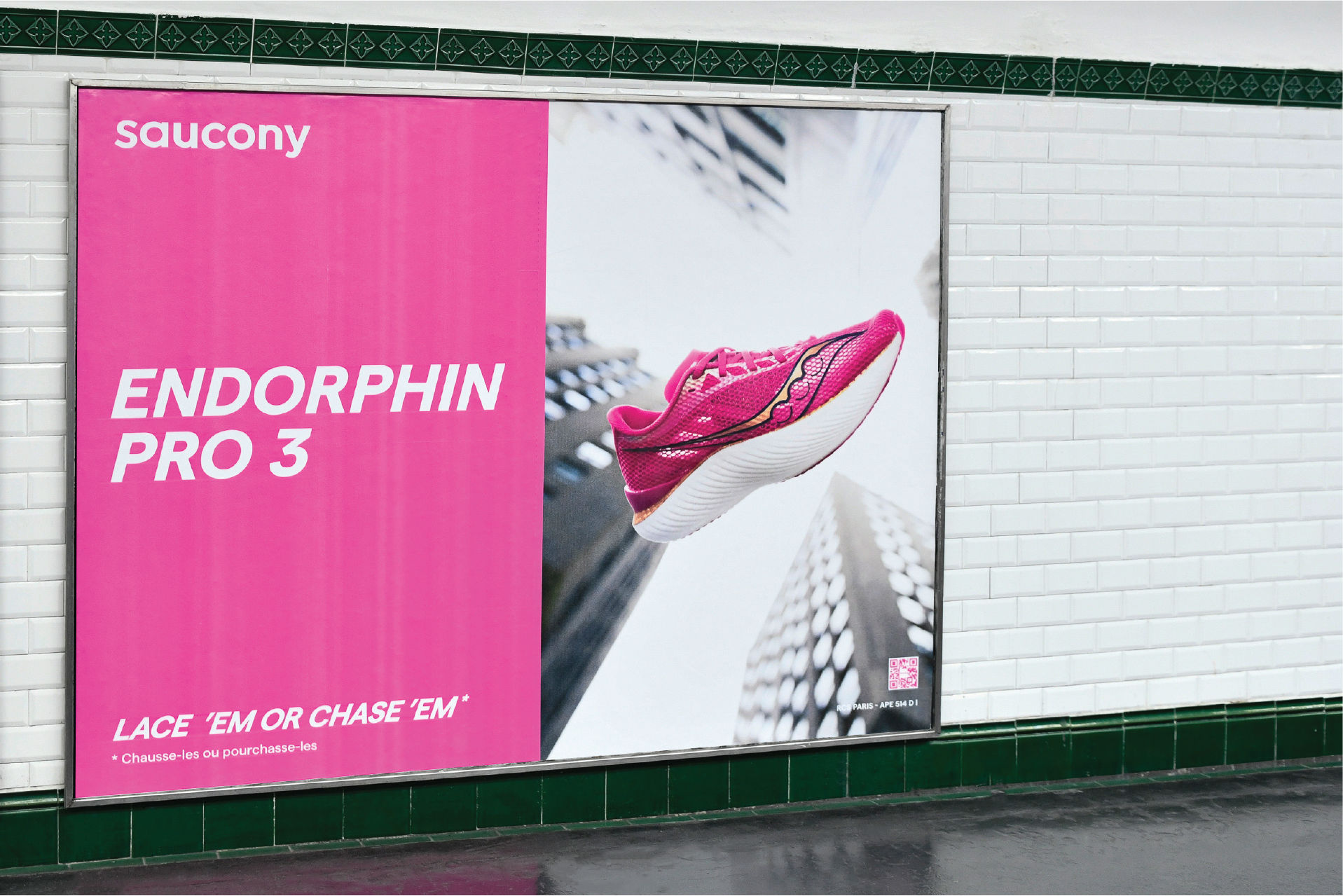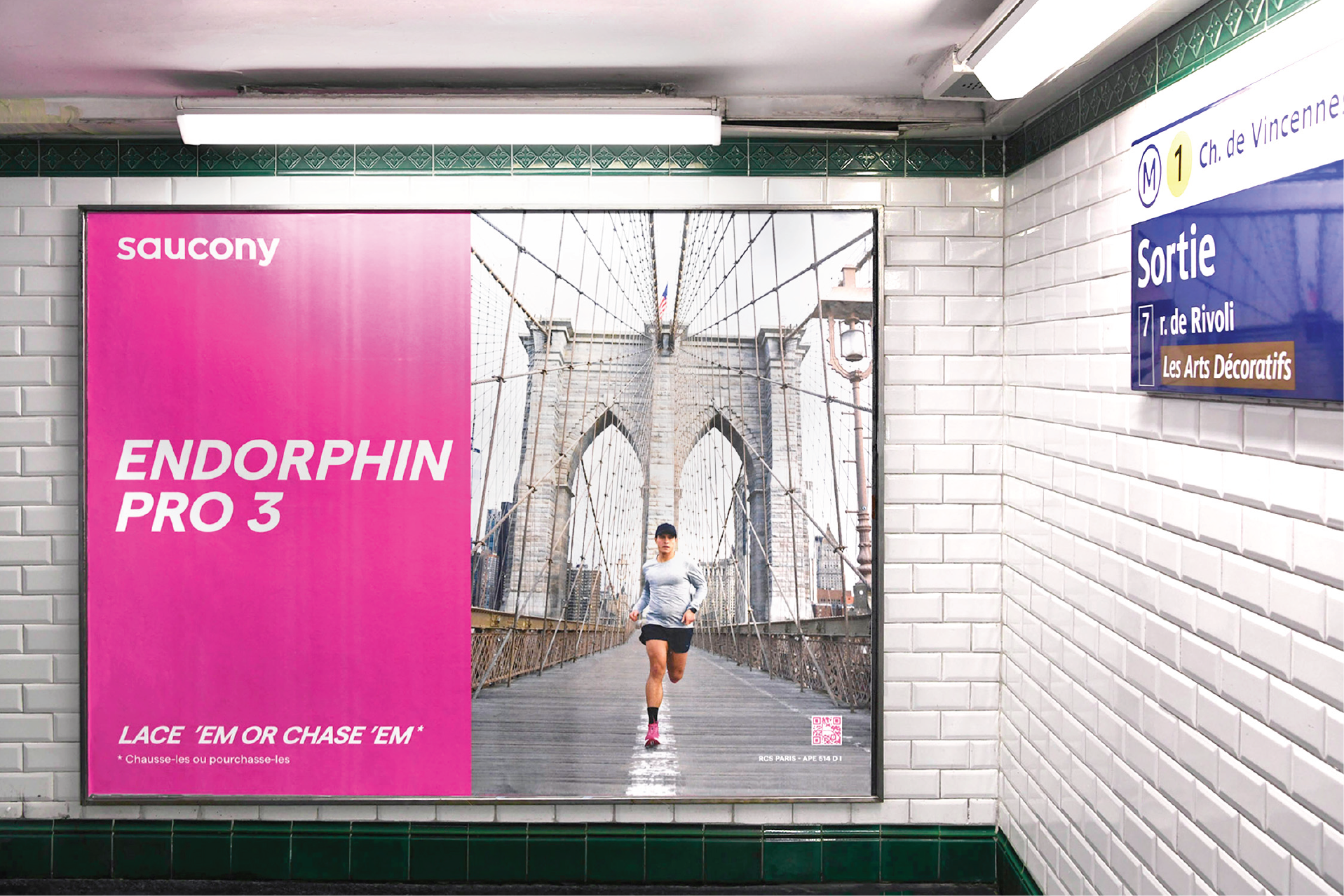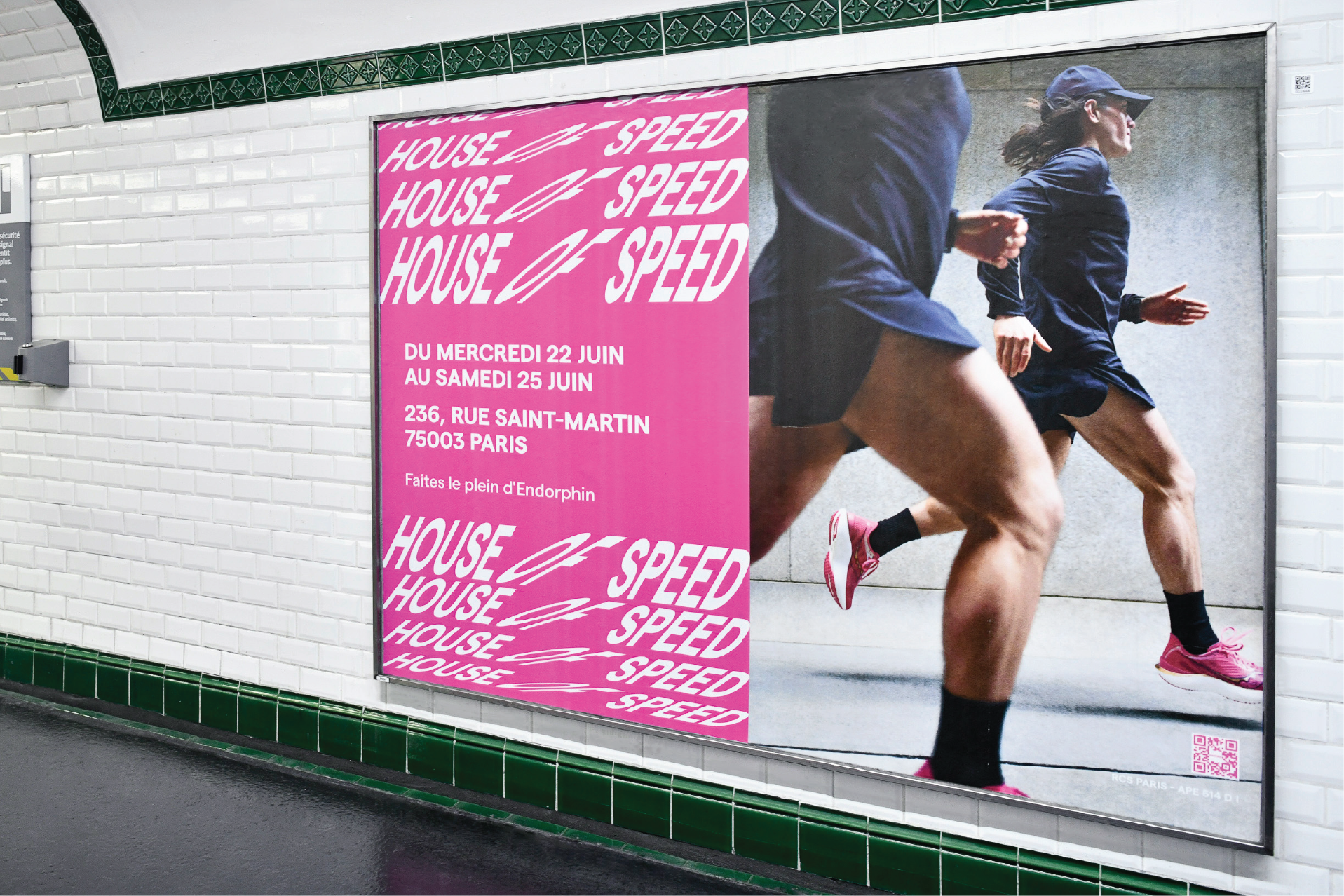 ---
HOUSE OF SPEED
---
July 21—25, Paris

A bright pink wrapped exterior was intended to capture the attention of foot traffic as well as act as OOH advertising. Immediately upon entering, the space sets the expectation that this is more than retail but a unique experiential activation. The front of the space remained clean and dedicated to Endorphin, with shoes treated as artwork, framed in bright pink neon to convey the electric and energetic speed.

(*Disclaimer: This specific portion (House of Speed) of the campaign is the only portion that Tony Kim was not involved in. This portion solely exists here to show the full breadth of work that was done for this campaign.)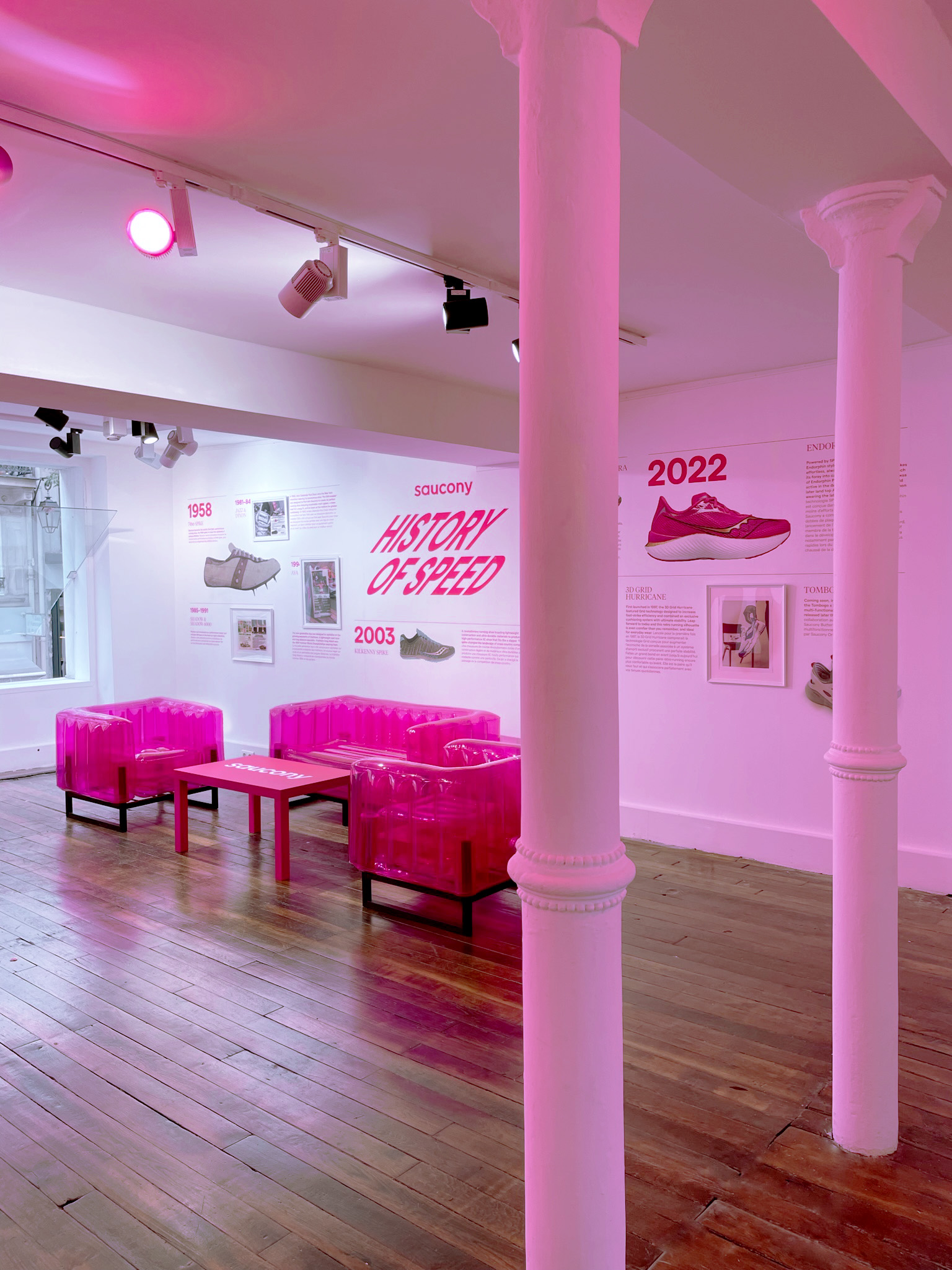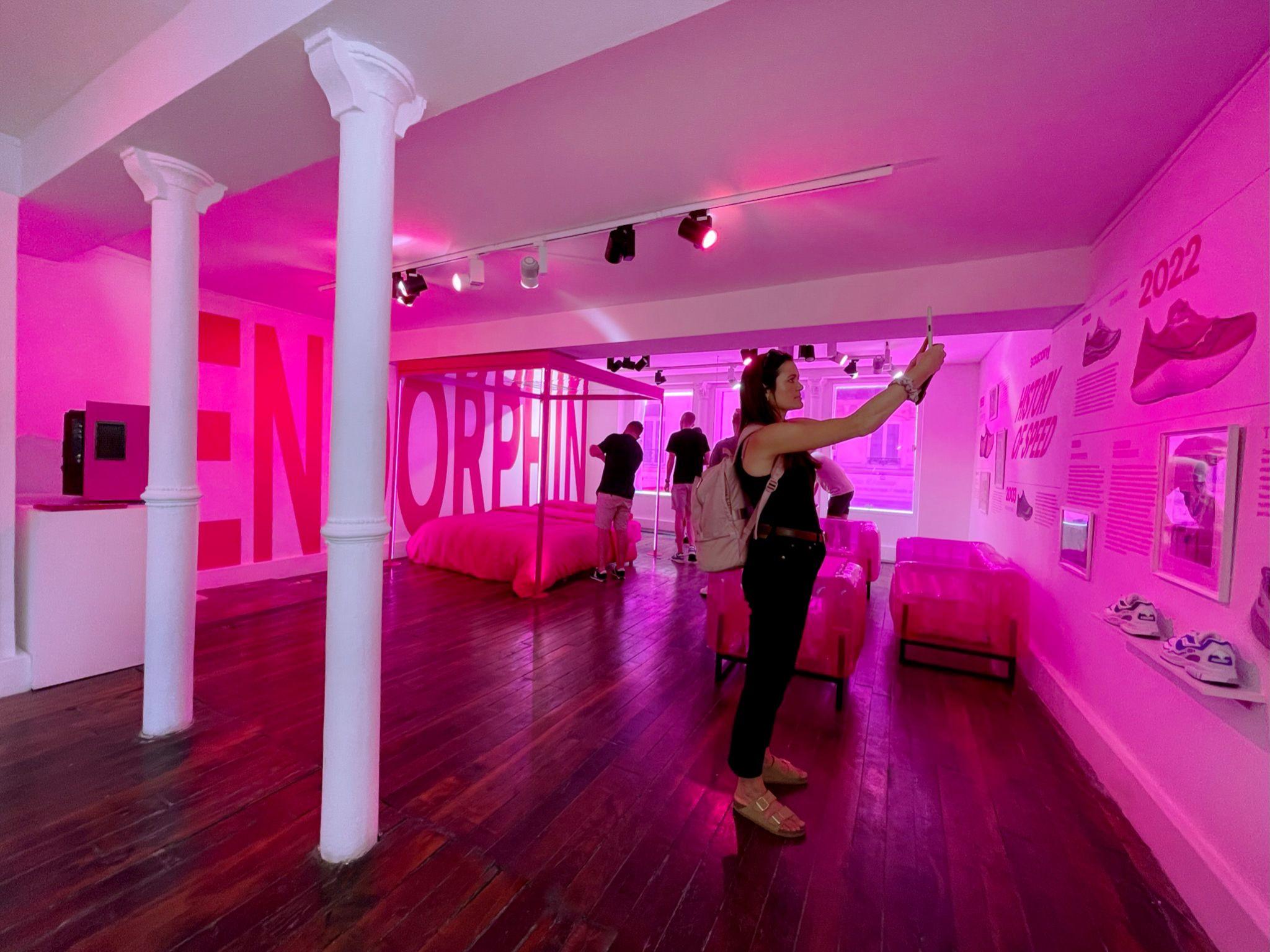 ---
PHOTO ASSET LIBRARY
---
Endorphin Pro 3

"Lace 'em or Chase 'em."

This campaign sees the evolution of You But Faster. A playful race plays out through busy city streets. The runner's Endorphin-wearing "reflection" continuously leads the run and while this competitive back and forth is rigorous, we see total joy in running fast. The film reinforces Endorphin's equity as a high performance shoe for a faster you — while metaphorically representing the notion that the only 'competition' is the one between ourselves.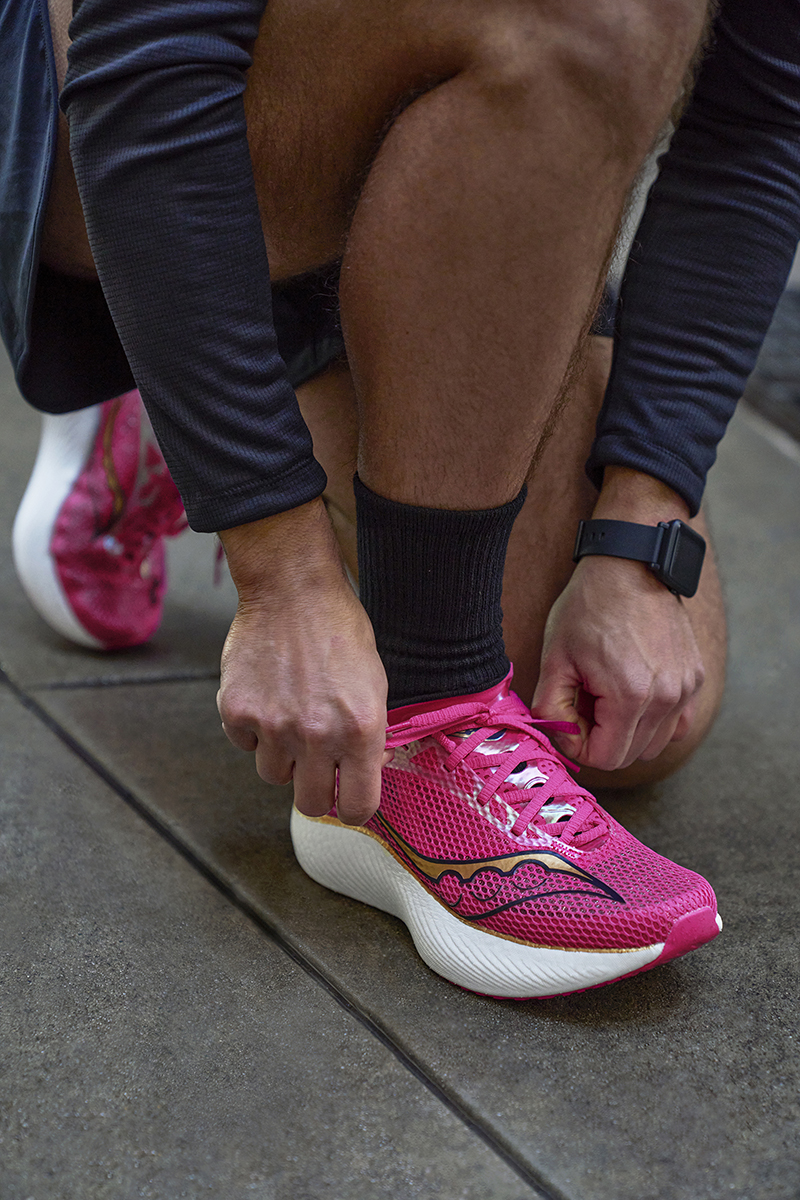 ---
Endorphin Edge

As an innovative new addition to Saucony's trail range, and with a focus on this being a race-day trail shoe, the goal was to capture elite trail runners in high energy moments of determination and focus. Thought starters were provided for a campaign concept that focuses on storytelling around the shoe's technology and innovation.

---
Triumph 20

"Runs Like A Dream."

This campaign focused on movement and bright pops of color for shoe that delivers dreamy, blissed-out miles. A joyful, happy run for those more concerned with comfort than speed.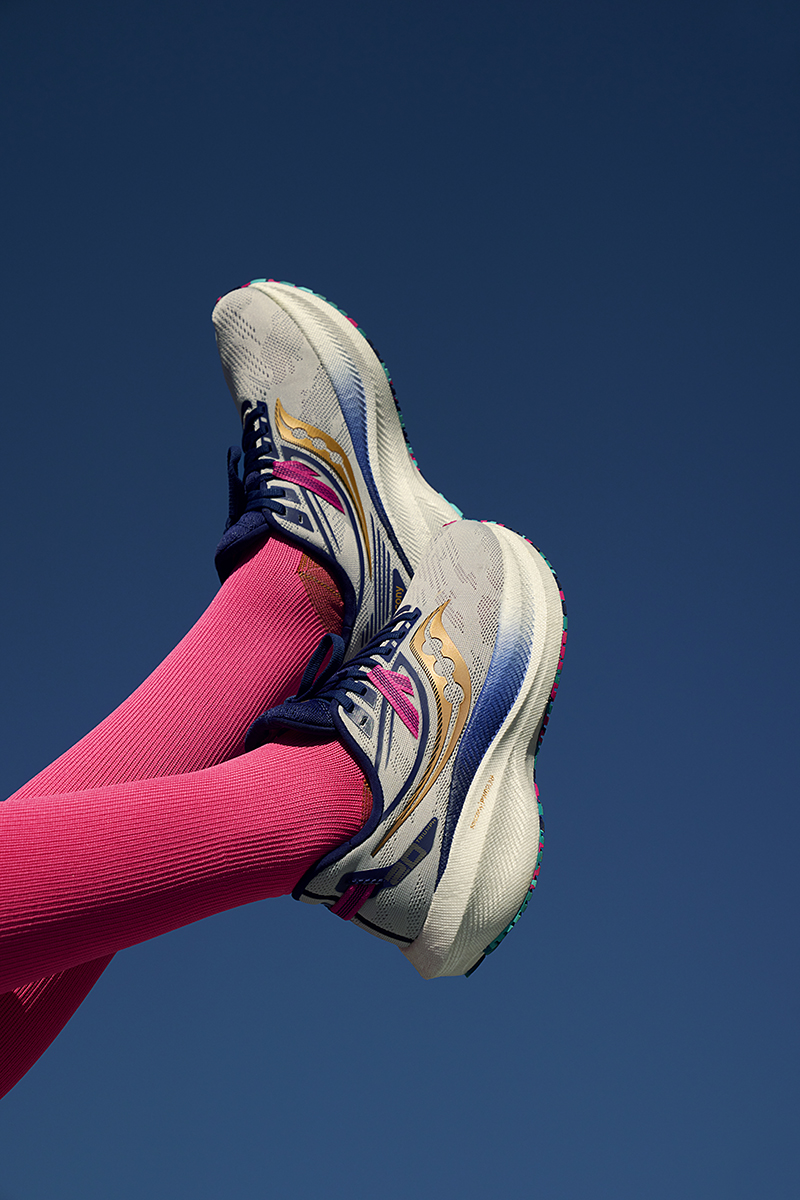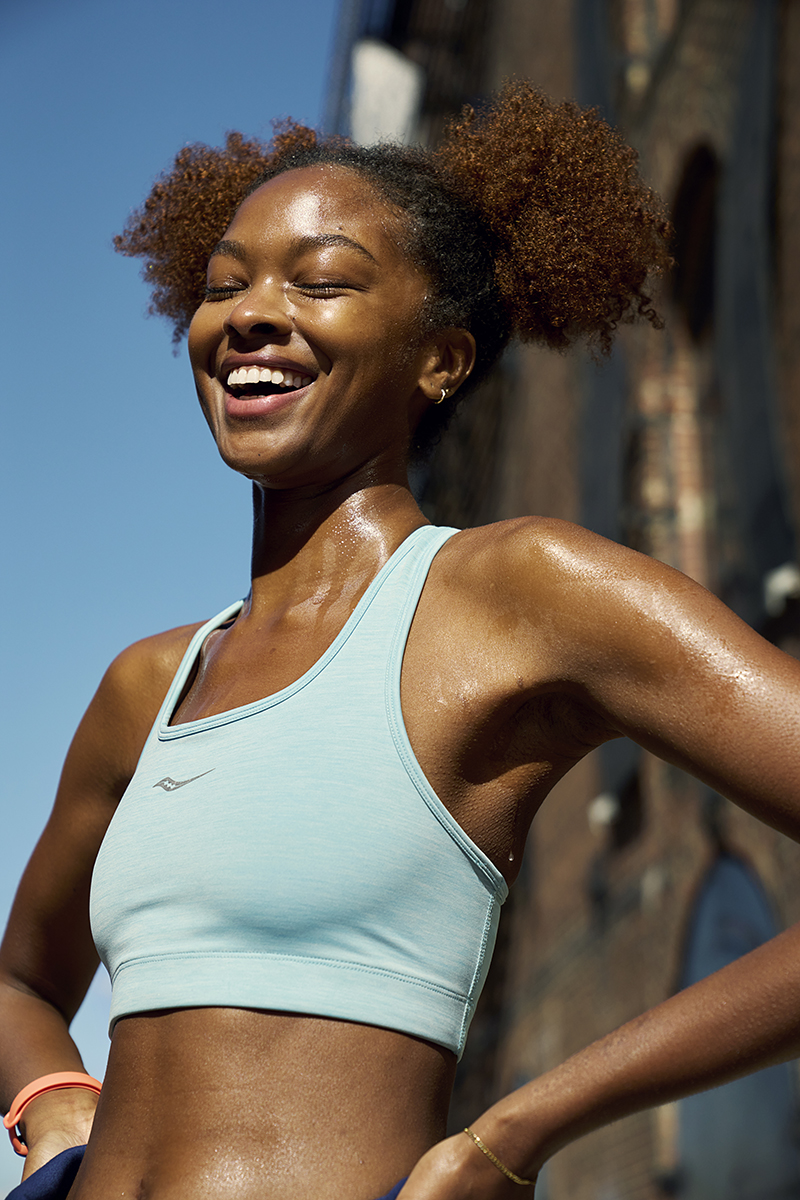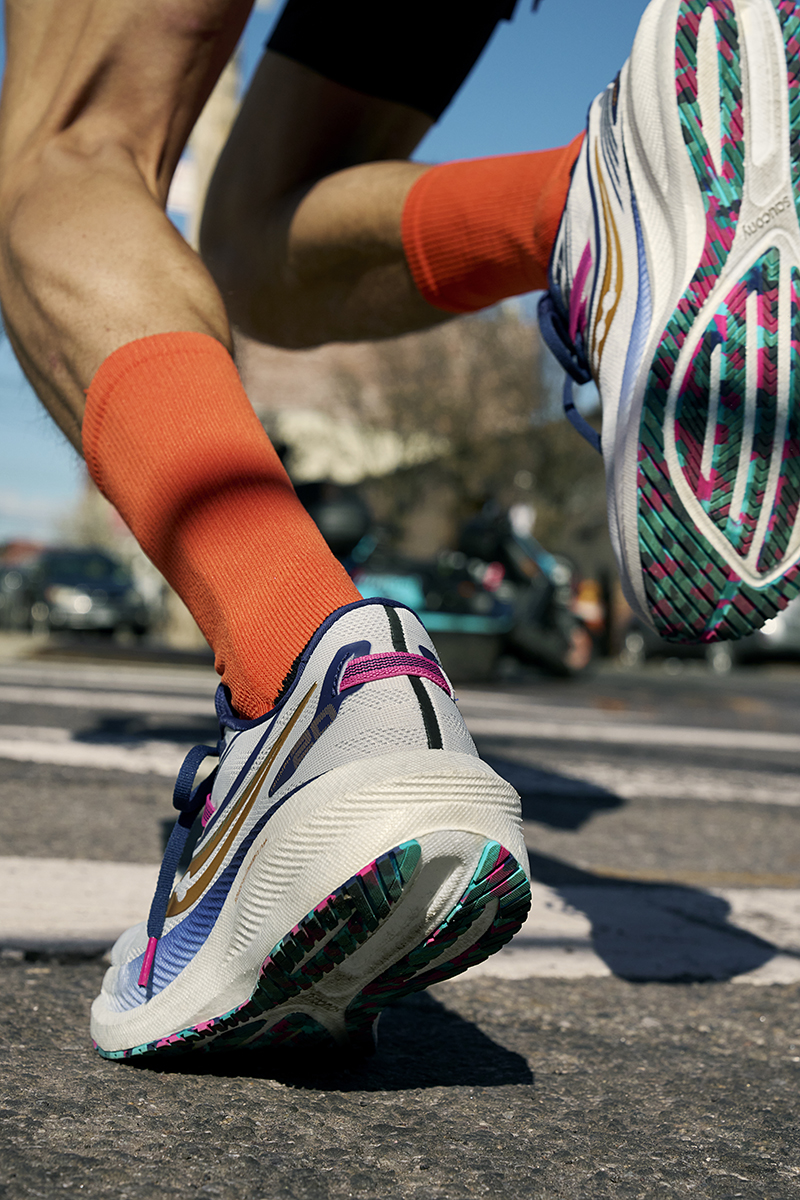 ---
Road

Capturing a global feel, the performance road shoot took place in New York and saw a cast of real, competitive, runners and Saucony partners including Olivia Levy and Black Men Run.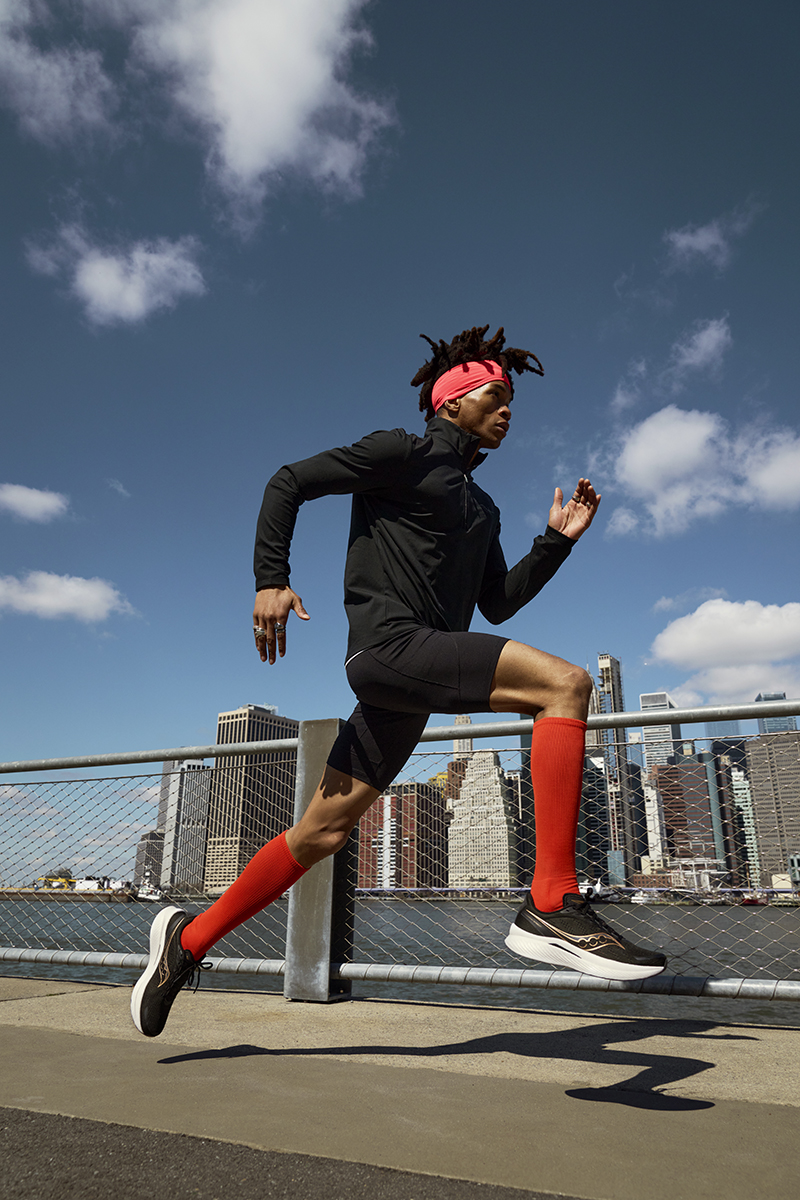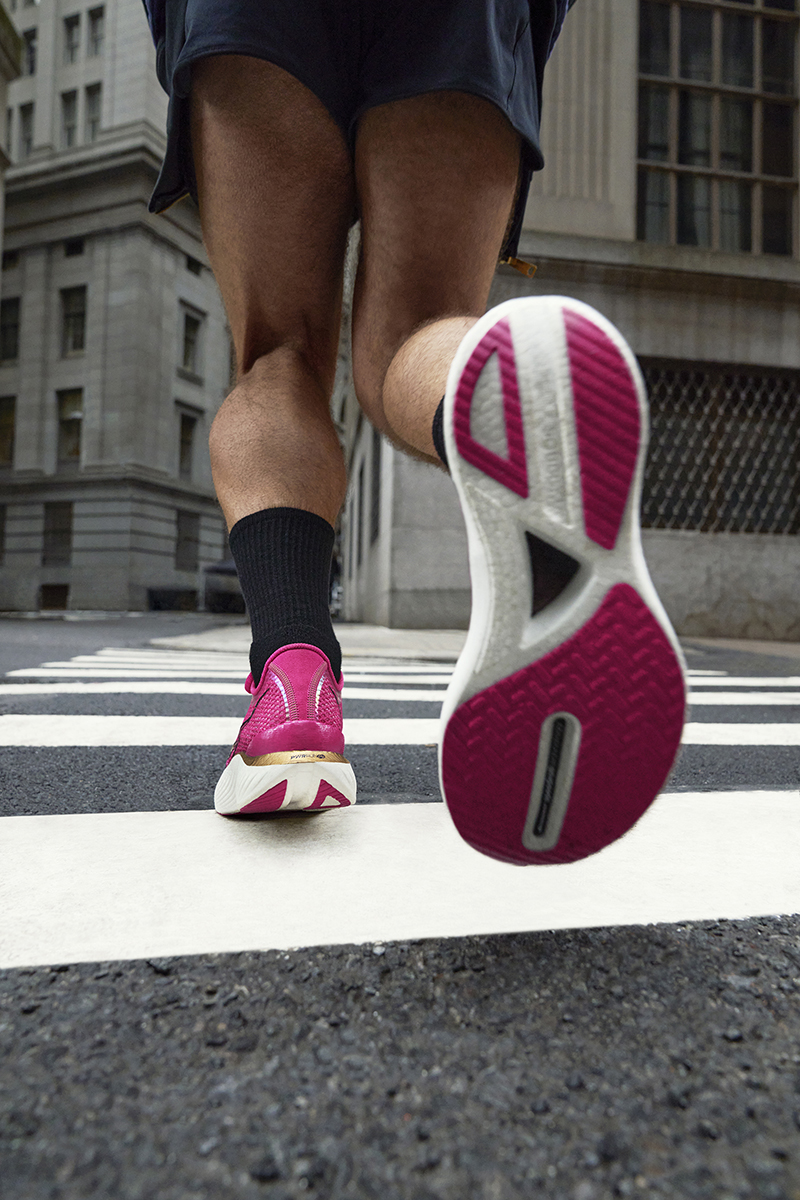 ---
Trail

We gave trail a priority treatment in a landscape that would bring out the best of the fall trail launches: Boulder Colorado. We tapped a variety of partners and athletes, from Canadian ambassador Brendan Carpenter, to elite athletes Adam Merry and Katie Asmuth.

---
"CALL US RUNNERS" CONTINUED
---
Continuing with the Call Us Runners campaign from SS22, this AW22 campaign calls on our community of runners to tell their stories and running journeys which will live within the Call Us Runners ecosystem (online, social media, etc). Talents were equipped with a hype kit and talking points to amplify the campaign's message.
︎︎︎ Check out the SS22 "Call Us Runners" campaign here
Saucony pro, running coach, & advocate for inner city kids
Nurse-turned-Saucony pro, mom of 2, & ultra runner.

Identical twins based in Brooklyn NY training with the Brooklyn Track Club

Former division 1 runner, licensed mental health counselor, HS cross country coach & competitive runner.

---
CLIENT: Saucony
President: Anne Cavassa
Senior Director, Brand & Sports Marketing: Michael East
Director, Marketing Operations: Andrea Love
Creative Director: Matt Caputo

CREATIVE AGENCY: Design Army
Co-Founder & Chief Creative Officer: Pum Lefebure
Co-Founder & Chief Executive Officer: Jake Lefebure
Executive Creative Director: Sucha Becky
Creative Director: Heloise Condroyer
Strategy: Samantha Giordano Kim

VIDEO & PHOTOGRAPHY: Supervision New York
Director: Anthony Blasko
Photographer: Anthony Blasko
Director of Photography: Ismail Shallis
Photographer's Assistants: Greg Hearling, Vita Burn
Supervision NY: Rebecca McCubbin, Kiersta Hodges

PRODUCTION COMPANY: LOLA Production
Producer: Frankie Berchielli-Jones
Production Manager: Stephanie Ge
Production Coordinator: Hannah Westbrook COVID
Compliance Officer: Erykah Morales
Location Manager: Jamie Ives

CAST & CREW
Lead Male: Vincent Lentini
Lead Male: Vito Lentini
Roller Skate Girl: Kristina Elise
Newspaper Girl: Heloise Condroyer
Dog Walker: Jen Towers
Assistant Director: Zach Buchner
2nd Assistant Director: Gilbert Stevens
Assistant Camera: Mika Hawley
2nd Assistant Camera: Julia Cryster
Key Grip: Jordan Bell
Gaffer: Peter Milmoe
Swing: Bobby Boothe
Cam Car Driver: Ryan Celecia
Transpo Driver: Russ Chave
Set Designer: Jacob Burstein
Wardrobe Stylist: Christine de Lassus
Make-up Artist: Zenia Jaeger
Hair Stylist: Ben Jones
Special FX: Jeffrey Moratti
Sound Design: Squeak E Clean
Copywriter: Cory Hansen